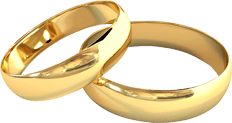 Marriage Proposal in Venice
---

---
We have prepared for you the most wonderful Wedding Proposal in the world, an unforgettable surprise for the one you love. With our help, Venice will be the setting for your love story in which your partner will be the unknowing protagonist.
Read our program and you'll understand why this marriage proposal is an original and special way to propose marriage to someone or an engagement, or simply to let the person you love know she is a very special person.
You will invite the one you love to take a splendid and romantic ride on a gondola.
Your ride along the small canals and Canal Grande of Venice will last about 30 minutes, accompanied by the notes of a musical duet (a voice, with a guitar or an accordion, or a violin).
The gondolier will take you close to a bridge, where a group of 10 people will be waiting for you with a truly moving surprise.
We'll hang a banner or a flag from the bridge with a phrase of your choice on it, e.g. Maria, will you marry me ?
When you reach the bridge on your gondola, the banner will be unrolled. At that very moment the group of people present will applaud you and shower you with rose petals.
Can you imagine the extreme happiness and amazement of your loved one when she realises that all this has been organised for her?
When she recovers from the emotion, you'll take a walk towards St. Mark's Square, filmed by our operator. At that point, you will embrace her and kiss her, because that will be the finale of your enchanting love story.
A day you will never forget
To make the declaration even more unforgettable, a video operator hidden amidst the crowd will shoot a part of the gondola ride and the entire scene of petals falling from the bridge. You will take home with you a real film, and your future wife will have the rest of her life to remember this unique event.
This day in Venice will become one of the most important days of your love story. Your loved one will feel unique, because a marriage proposal made in Venice is a privilege that very few women can say to have experienced.
If you want to make the most wonderful Marriage Proposal in the world, contact us. We will organise the most beautiful day of your love story.