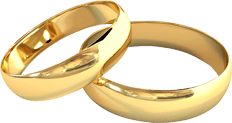 Civil Weddings Venice
---

---
Getting Married in Venice at Palazzo Cavalli. A dream wedding can be held in Venice, in the aristocratic surroundings of Palazzo Cavalli, an historic palace on the Grand Canal.
Venice City Council gives the possibility to the couples from all over the world to enjoy the most important moment of their life – that 'Yes, I do ' – in such as a romantic atmosphere, that only the Lagoon City can evoke.
Within the building, a series of rooms is dedicated to the happy couple.
The most exciting way to reach it is, of course, by gondola, with water softly lapping its hull, against a fabulously theatrical background of canal-side palaces.
The ceremony will last 30 minutes, including an official part and of course you can miss taking photos on the balcony which offers a striking view of the Grand Canal overlooking the Rialto Bridge.
On the wedding table, at bridegrooms' disposal , besides a silver plate for the wedding rings, you can find a made-up composition of flowers (or alternatively, if you want to pay for it, a floral composition according to your wishes).
The whole is accompanied by a pleasant musical background coming from a CD-player-system.
In order to enjoy a Civil Wedding in Italy, it is necessary to provide documents proving your personal identity and showing that you are free to get married.
Once you have confimed agency service, we will provide you with a list of the required documents for Civil Wedding in Italy, and assist you with all the necessary bureaucratic and administrative processes as well as delivering and collecting any document and, if necessary, by accompanying you to the offices of the authorities involved.
Under Italian law, a divorced or widowed woman cannot re-marry within 300 days of her divorce.
This rule does apply to the future bride only.
Opening hours for weddings:
Monday – Saturday

09.00 – 13.00
14.00 - 17.00