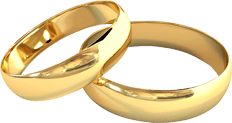 Civil Weddings in Verona
---

---
Getting Married in Verona, the city of Romeo and Juliette. A Civil Wedding in Verona can represent another romantic idea for your wonderful dream wedding.
Imagine to fulfill your love in the city where the most famous and moving love-story was set and consumed, in Verona, Romeo and Juliet's city.
Verona Town Hall makes available to the future bridegrooms two main wedding halls.
Sala Guarienti lodges the Verona Town-Hall and is situated at the side of the tomb of Shakespeare' heroine.
The Wedding Hall, surrounded by a medieval atmosphere, is large and bright, its walls are decorated with frescoes, and can hold a maximum of 40 people. The interiors of the hall overlook on a garden, run along by paths, where you can pose for your photos at the end of the ceremony.
Civil Weddings can be celebrated every day.
Juliet's House
This legendary abode, with its famous balcony, was born in the first dialogue of Shakespeare's tragedy "Romeo and Juliet",one of the most popular scenes displayed in the history of theatre... Just here the eternal lovers swore each other everlasting love.
All over the centuries this residence has become one of the most popular places in Verona, visited everyday by hundreds of tourists coming all over the world and that want to pay tribute to their love.
The medieval building displays a beautiful inner facade made of bricks, a porch in Gothic style, trilobite windows, a banister that put on from the outside to the different rooms of the house including of course, the famous balcony.
Inside you can admire furniture dating back to XVI-XVII centuries, remarkable frescoes referring to Romeo and Juliet's vicissitudes and Renaissance pottery from Verona.
The bronzed Juliet's statue is situated in the middle of the court. You can celebrate your wedding at Juliet's house on Monday mornings from 9 a.m to 12 a.m (except on feast days), when Juliet's house is closed to the public.
Civil Weddings can be celebrated every day.
The court is always open to the public.