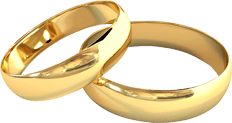 1. Tipical First Class Venetian Restaurants
The best restaurants in Venice, situated in the central areas, near St. Mark's Square or Rialto Bridge offer typical Venetian delicious cooking, a friendly atmosphere with a perfect service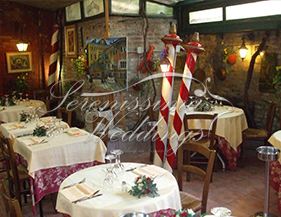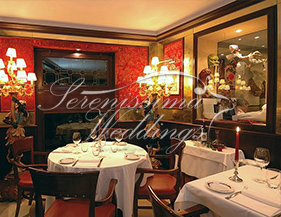 2. Elegant Venetian Restaurants
First class restaurants, offering an elegant and refined setting for your event, delicious cooking and refined atmosphere.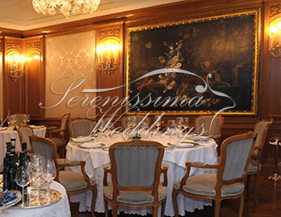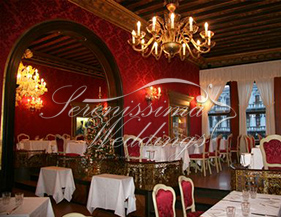 3. Luxury Canalside Terraces
First class elegant restaurants with terraces overlooking the little canals or on the Canal Grande for an elegant and romantic reception.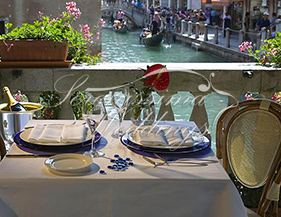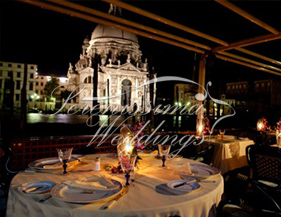 4. Terraces overlooking Venetian Lagoon
Location of cosy and elegant charme , with a breathtaking sight, available in warm period of the year.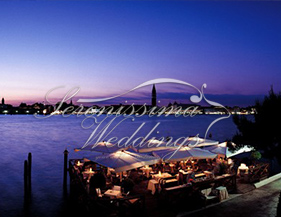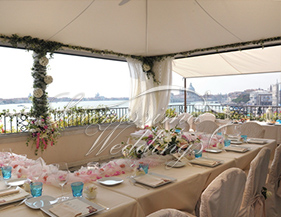 5. Ristorante Met 2* Michelin
Creative, refined and unconventional cooking offering delicate-flavoured dishes with unusual combination in which the typical products from Veneto , - referring to the Venetian one especially -, go well with spices , parfums and colours of the oriental countries' gastronomy. A peculiar cooking but ever faithful to tradition.. 2 stars Michelin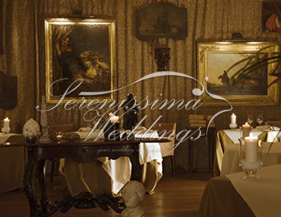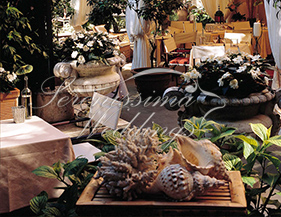 6. Roof Top Terrace
Restaurants Wedding reception, by candlelight, over one of the most exclusive terraces with "vista", where your face can embrace the whole Laguna . This offer is available during the summer season, from the end of May till the end of September, for groups including a minimum of 10 people.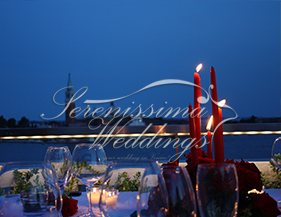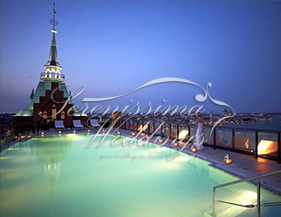 7. Luxury Hotels
Lunch or dinner of your event will be arranged in a luxury and elegant setting/location, for example in one of the most important hotels in Venice (4*-5*L). An historic sumptuous hall of a Venetian palace, with stuccos and frescoes, a selection of gourmet dishes, an exclusive and refined service. This offer is available for numerous groups of people.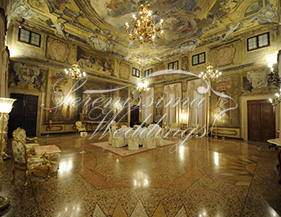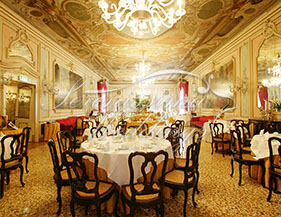 8. In a Secret Garden
In spring or in summer your reception could be organized in a private garden of one of the Historic Palaces of Venice. High level catering or restaurant service. Available for a large number of people.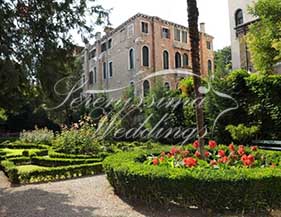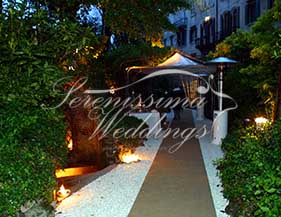 9. Venetian Palaces
Your reception can be organised in one of the many Historic Buildings in Venice. Different solutions are available for the floral arrangements, illumination with torches and candles, a variety of shows and entertainment solutions to choose from. A catering service supplied by the best companies in the sector. Available all year round for large groups. (See more …)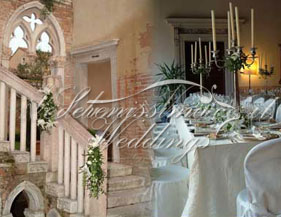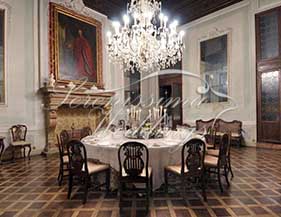 10. On one of the Venetian Isles Surprise your guests !
After the ceremony of the civil wedding, a motorboat is waiting for your guests leading them in an exciting discovery travel on the Venetian Isles : Murano, Burano, Torcello; and a reception on one of these isles in an unusual setting full of fascination.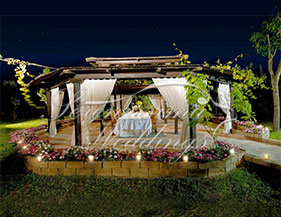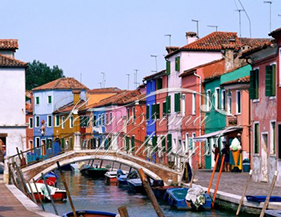 11. Aboard the Pirate Galleon
If you want to party in an original way for your wedding or wedding anniversary, birthday or any other important event, and can bring plenty of people with you, we can organise you a party with music, games and floorshows aboard a real Pirate Galleon. (See more ...)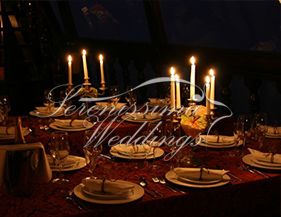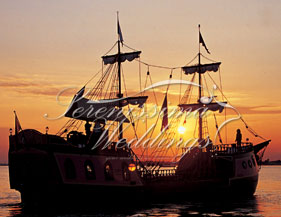 12. Veneto's Historic Villas
The Veneto Region, in particular Riviera del Brenta, is famous for its artistic heritage, consisting mainly of old Venetian villas, rich in history and works of art. Today, these villas give hospitality not only in the form of hotels, but also host wedding receptions and general events. Many of these villas have vast well-kept gardens and parks with lakes and fountains that in the warm season host a number of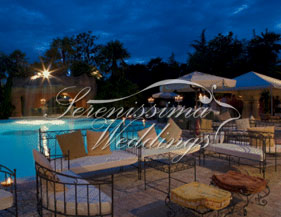 13. Medieval Castle
Your wedding reception or your party can be organised as a medieval feast and take place in a Medieval Castle boasting 2000 years of history, situated 70 km away from Venice airport and 50 km away from Treviso airport. The evening can end with a display of fireworks set off from the valley and that can be admired from the height of the Castle (190 mt). Available all year round for large groups. (See more ...)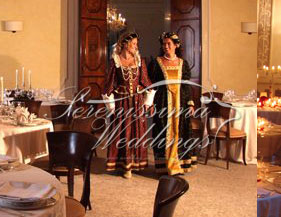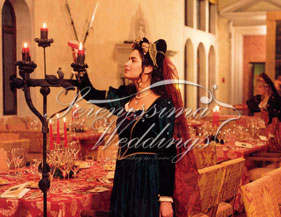 14. Aboard of a Luxury Yacht
Romantic Tete-a-tete fine Fish or meat Dinner, prepared by chef de rang for You onboard of Yacht (being moored in front of St. Mark's Square). The entire staff at your complete disposal Live music – played on a grand Piano. A bottle of Champagne for a couple. (See more ...)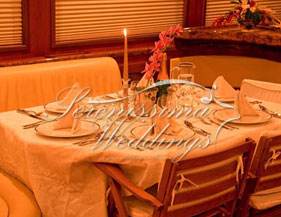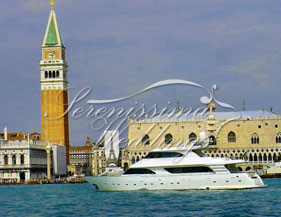 15. Catering Kosher
On request, we can provide for your wedding reception or party, a Catering Kosher, certified by a Rabbi. All food ingredients, preparation of plates and supervision during the dinner will strictly follow Kosher requirements.